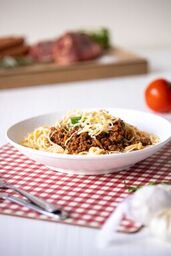 Why not grab some of our Lean beef mince & make this delicious dinner!
Here's what you'll need:
1KG mince ( depending on the amount of people you need to feed)
1 brown onion diced
1 Jar of spagetti sauce (we sell this instore!)
Pasta to serve ( we also sell this)
Cheese (and again- we sell this!!)
Here's how you'll do it:
-Cook Spaghetti as per packet instructions
-Brown onion in a pan
-Add mince and brown until cooked
-Add jar of spaghetti sauce
-Plate up pasta, Top with mince & serve with cheese on top!
Feel like something different? Why not ad this mince to a jacket potato? mmmmm