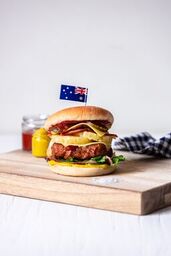 The True Aussie Burger!
Here's what you'll need:
Buns
Big Gun's Angus Patties
Salad Items ( we like Lettuce, tomato, pineapple, egg, bacon & pickles!)
Cheese
Choice of Sauce
Here's what you'll do:
Throw your patty on the bbq, along with bacon & egg
Bun- To toast or not to toast?! – We say Toast!
Pop your sauce on the bun and build it up!